I recently registered for Blackberry development through Marmalade. The reason was because RIM were offering a free device on loan to test your application. I figured I had nothing to lose, so why not. Anyway, the process was pretty quick and within 10 days I was accepted on the program, qualified for the device, and it turned up today.
I installed the Native SDK, which in turn allows Marmalade to target the device natively. I registered all the certificates etc that I needed. Built the app. Deployed to the device. And well…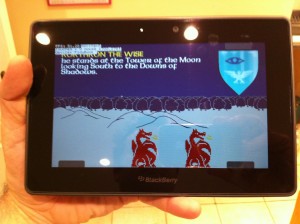 There you go. The process was pretty painless. The Marmalade SDK did it's thing and it just worked. The previous work I did on resolution independence paid off. I just have a few tweaks to make because of the widescreen. But other than that… fully functional.