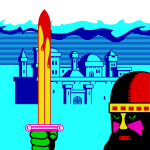 I have just pushed a new version of Doomdark's Revenge out for ALL platforms. This brings all platforms in line with each other. The previous update was only released for Android and iOS. I apologiss for the delay in getting the last two versions out, but my heart and mind has just not been in it for the last couple of months.
Hopefully this will fix the remaining issues with the gameplay, and will also be the last of the 1.3 changes. The intention is that any update to follow will include some new features.
The Windows and Mac version should be showing up on your main menu now. Android/Amazon version should be ready now, or very soon. Mac App Store and iOS version will take a week in Apple Clearance, and Blackberry version usually takes a couple of days.
The changes are..
v1.3.6
1. Fix recruitment check. Loyalty of character being approached now correctly gives +1 and when the lord is treacherous the chance of recruitment is halved – This fix should mean that treacherous lords are no harder to recruit for AI lords, which should stop lords swapping allegiance so much. They should therefore be able to focus on the task at hand.
v1.3.5
1. Morkin's AI attribute is reset once recruited. Stops him moving and allows him to move in tunnels. Previously Morkin's AI attribute remained set after Tarithel recruited him. This mean that he didn't work in tunnels very well, and had a habit of wandering off at night.
2. Tarithel can no longer be recruited away. Tarithel was incorrectly being recruited by AI lords.
3. Spell of Carudrium now works correctly. Previously this was bringing ALL characters to the location of the caster, and not just the the lords loyal to the Moonprince.
If the AI characters are still not behaving like the original, I am going to have to spend a lot more time analysing why. I can't see any reason why the logic should not play out the same as the original ( other than the difference in random numbers ). This will involved a lot of debugging. But hopefully this version should just nudge everything in the right direction.