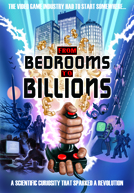 Anthony and Nicola Caulfield of Gracious Films have been making a documentary about the games industry, titled 'From Bedrooms to Billions' @FromBedrooms
'From Bedrooms to Billions' 'A 90 minute feature length documentary film telling the remarkable, true story of the British Video Games Industry between 1979 – 1996. The film shows how the creativity and vision of a relatively small number of individuals allowed the UK to play a key, pioneering role in the shaping of the billion dollar video games industry which today, dominates the modern world's entertainment landscape.
They originally contacted Mike Singleton for an Interview which he agreed to, but due to his health at the time was unable to do. To put it in perspective he'd just had a chunk of his jaw and tongue removed, and even by the time of his death he was not talking clearly, although close friends and family were able to understand him.
The only known footage of Mike was from a BBC interview for the program Get Set which was transmitted Saturday 28th May 1983.
Unfortunately, the BBC have long since deleted this VT!
Anthony and Nicola are trying to track down anyone who may have recorded this program, and still have it.
Of note, Ultravox and China Crisis performed on the show, and therefore it is likely to have been recorded for either of those performances.
If you can help, please get in contact.
Here is the full details of the show.
GET SET – Broadcast 28/05/1983
NMRN314N TX 28/05/1983 (programme Junked by BBC!)
MAG PROG 1:37:10
Kids mag prog pres live from NBH M'cr by Mark CURRY & Deborah APPLEBY.
Guests Ultravox, China Crisis, Mike SINGLETON, Mike READ. Items; competitions, music, cartoons, the VideoVote, guests, COMPUTER GAMES, dinghy sailing & fun, fun, fun!
live studio; sp s, ex-lib & cpyt film inserts; sp s, ex-lib & cpyt promo
ITEMS; MUSIC: Ultravox perf 3 songs live – 'Hymn' (5m26s), 'We Came to Dance' (3m52s) & 'Serenade' (3m24s). Videovote – viewers phone to choose their fave pop video from 4 clips; winner – 'Bad Boys' by Wham! China Crisis – Mark
INTVs Eddie LONDON & Gary DALY from China Crisis & intros promo vt of their new single 'Tragedy & Mystery'.
Demonstration of latest COMPUTER GAMES with Mike SINGLETON.
Summer Scene -vt/film round-up of events around UK. Also; dinghy sailing,
INTV with Mike READ re 'Great Rock & Roll Trivia Show', Book Tokens competition, cartoons.
SUBCAT LONPROG FILING DATE 28/05/1983 CIN LISC 244292
REPORTERS : APPLEBY Deborah, CURRY Mark
CONTRIBUTORS : DALY Gary, DEMPSEY Mick (DIR MAG), HARRISON Tony (PRD MAG), LONDON Eddie, READ Mike, ROACH Barry (DGN), SINGLETON Mike